13+ Google Classroom Quick Tip Videos for Teachers
Posted On October 15, 2020
---
In this post, I am going to give you 13+ Google Classroom Quick Tip Videos for Teachers!
Each week on The Shake Up Learning Show Podcast, I share a quick Google tip.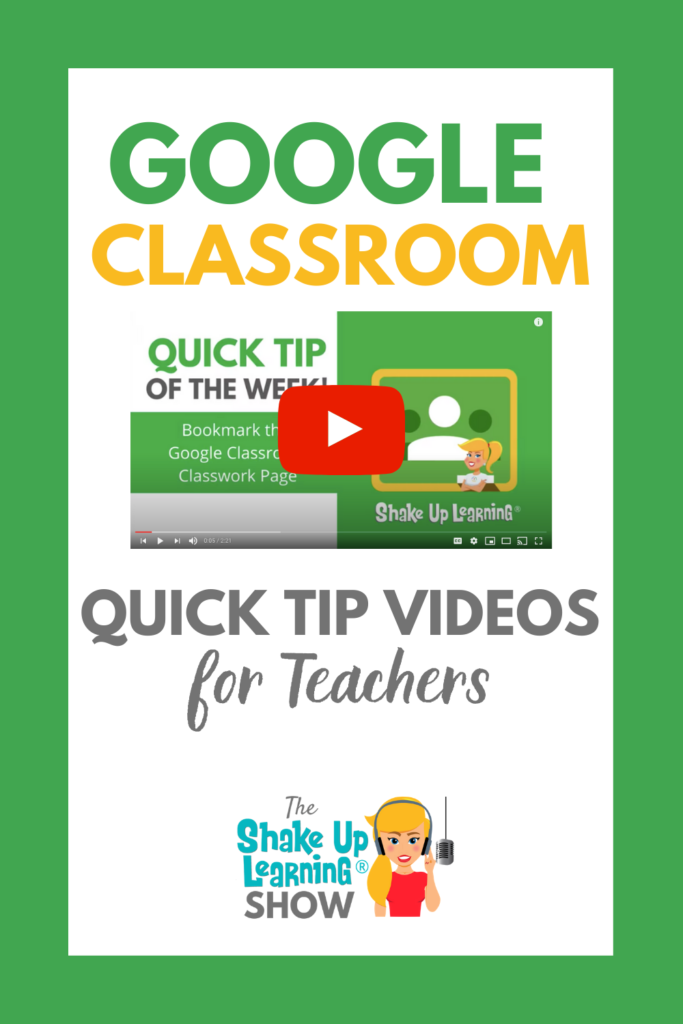 The podcast is an audio format, so I started creating Quick Tip tutorial videos on YouTube each week. (You can access all of the Quick Tips here.)
Subscribe to Shake Up Learning on YouTube to access all of my tutorials and quick tips.
A large portion of these tips are for Google Classroom, so I have organized these into one playlist for easy access.
This playlist will continue to grow past the 13 videos at the time of this post.
I also started posting these quick tips on TikTok. (Follow @ShakeUpLearning on TikTok)
Google Classroom Quick Tip Video (FULL Playlist)
The entire playlist is embedded below. (Click on the 3 lines in the top right corner of the video below to see all the videos.)
The videos below are organized by podcast episode, with the newest on top. Not all of the tips for each episode are Google Classroom tips. Visit this page to see ALL the Google Quick Tips.
NEW FEATURE! You can now invite students to join your class in Google Classroom with a link!
When you leave feedback in private comments for students, don't just tell students what to revise or edit; give them a resource link so they can review the skill!
Did you know you can tag students in Google Classroom comments? Yes, if you allow class comments, you tag students, so they know you are responding to them. Simply type the plus sign (or @), followed by their email ([email protected]).
Most teachers seem to have a love/hate relationship with Google Classroom notifications. Did you know you can customize what notifications you receive?
Did you know you can distribute assignments in Google Classroom to multiple classes all at once? It's super easy!
Are you tired of recreating Google Classroom classes and adding all your topics and organization? Create a reusable template to save yourself valuable time. (I've blogged about this in-depth here.)
Emojis are everywhere and are a great way to engage your students. Did you know that you can copy and paste emojis into Google Classroom and Google Drive? Yep! You can add them just about anywhere, including the titles of your Google files too!
Did you know that you do not have to give every student the exact same assignment at the exact same time in Google Classroom? It's super easy to differentiate, distribute modifications, assign group work, and more.
Click the drop-down arrow next to students on your Google Classroom assignment.
Uncheck "all students."
Select the student or group of students you wish to give the assignment.
The Stream is your Google Classroom communication hub. This is where you post announcements and keep students informed.
By default, the Stream will also show notifications of new items posted on the classwork page. For some, this feels like duplication and can muddy up the Stream. (Ha! See what I did there.)
If you're using the Classwork page, you can choose a collapsed or expanded view for Classwork notifications on the Stream page. You can also hide them entirely from the Stream page.
You can learn more about all of the Class settings here.
Private comments are a powerful feature!
Some teachers take the private comments feature a step further and make it part of the assignment by requiring that students add a reflection as a private comment after they submit their assignment. Sean Fahey suggests using an open-ended question or give students a prompt like, "What did you like most about the assignment?" or "What part challenged you the most?"
Be sure to add this to your directions, so they don't forget!
Sometimes, navigation in Google Classroom can be frustrating and take a few too many clicks to get where you want to go. Since the majority of your time will be spent on the Classwork page, I recommend bookmarking it.
In Google Chrome, you can add it to your bookmarks bar for quick access.
Did you know you can get a direct link to a specific assignment or topic in Google Classroom?
Yes! This Google Classroom tip is super handy when you need to refer students to something specific.
To get the link, go to the Classwork page and click on the 3 dots on the assignment. Then click on "copy link."
---
---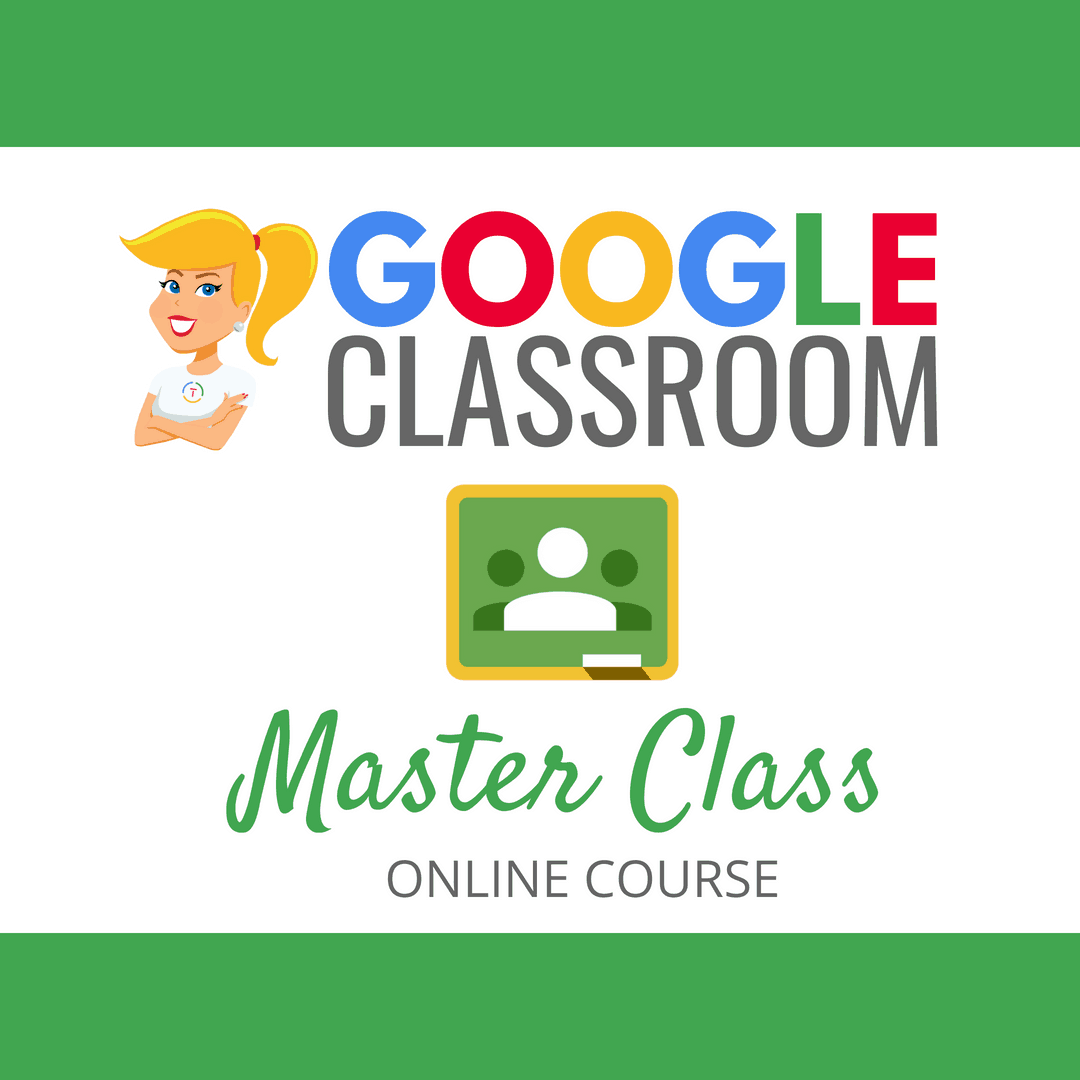 Learn all about the new updates to Google Classroom and take your skills to the next level. This course will give you everything you need to get started using Google Classroom and best practices to help you make the most of this tool.
Perfect for the beginner to intermediate skill levels! Consider this your video guide to Google Classroom!
NEW Bonuses just added on Google Meet integration and Remote Learning tips!
Click here to learn more and to ENROLL TODAY!
---
Learn All About the Course
Who Should Join the Google Classroom Master Class?
Beginners can learn everything they need to get started.
Intermediate level users can focus on learning more advanced features, tips and tricks, and best practices.
Go at your own pace.
Let's dig in! This class is for all skill levels!
What's Included in the Google Classroom Master Class?
Self-paced
Video-based lessons
6 BONUS Lessons
PDF Downloads
Supporting Resources
Best Practices and Tips
6 hours of professional learning credit
Purchase orders are accepted
Bulk license discounts
Get your whole team, campus, or district on board
---
Click here to learn more and to ENROLL TODAY!
© Shake Up Learning 2020. Unauthorized use and/or duplication of this material without express and written permission from this blog's author and/or owner is strictly prohibited. Excerpts and links may be used, provided that full and clear credit is given to Kasey Bell and Shake Up Learning with appropriate and specific direction to the original content on ShakeUpLearning.com. See: Copyright Policy.
---
You may also like