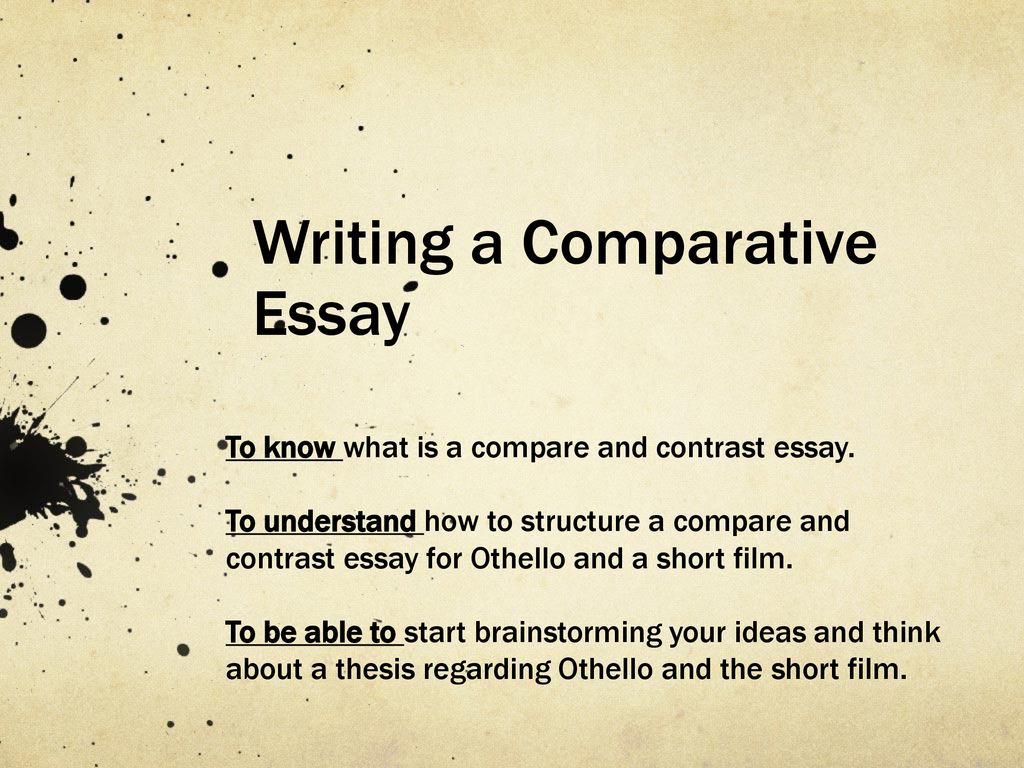 How to Write a Comparative Essay
There are a few tips you should keep in mind when writing a comparative essay. The comparison should be based on a basis rather than an argument. A good comparative essay is not a debate, but rather a way to gain knowledge about two things. For effective comparisons, the items should be sufficiently different yet still belong to the same "class."
Developing a basis for comparison
A comparative essay involves comparing two subjects. This type of writing requires that you develop a clear thesis statement and a basis for comparison. When writing a comparative essay, you should focus on an object or topic that is similar to the subject. For example, if you study the Industrial Revolution, compare it to the rise of the digital age. You should discuss how these two movements affected people's daily lives.
After identifying your two literary texts, you should decide on a basis for comparison. This may include the representation of women and minorities in each piece. Other criteria could include themes, mood, tension, and literary elements. You can use your observations to develop a thesis statement or outline. The basis for comparison is often a subject of debate. Developing a basis for a comparative essay is an important part of composing a quality essay.
Developing a point-by-point structure
When writing a comparative essay, it is helpful to remember that the two things you are comparing must have features in common (and hence be in the same "class") and differences that are substantial and not trivial. The best way to do this is to group related points together. This way, you'll have a shorter list of points to alternate. Then, write about the similarities between the two objects.
When writing a comparative essay, it is important to consider the three main parameters or axes. These three parameters may include things like color, size, and texture. As you write, consider them in terms of each other, and be sure to follow a logical flow of ideas and paragraphs. You should avoid jumping around or deviating too much from the basic structure of your essay.
Developing a solid outline
Developing a solid outline for a comparison or comparative essay is a great way to organize your ideas and develop a more cohesive structure. There are several ways to write your outline, including prewriting to lay out your ideas in a logical order. Another effective method is to use a chart, where you divide a sheet of paper into three equal columns. In the first column, list the aspects of the first topic that are unique to that particular topic. In the second column, list the aspects of the second topic that are common to both of them.
After you have written your outline, you can begin writing the body paragraphs. After writing the outline, you can fully develop your ideas and pull the reader into your argument. Don't forget to cite your sources! You'll be able to make the most effective comparison and contrast essay when you have a good outline. You'll be glad you did! Developing a solid outline for a comparative essay is essential to ensure that your paper is ready for submission.
Organizing the body of the essay
One of the keys to writing an effective comparative essay is ensuring that your comparisons have an effective organizational structure. You should not jump from one comparison to the next, because this can make your essay seem unorganized and confusing. Instead, try to organize your comparisons using the same structure for each, or a hybrid of both. Both formats are appropriate and can work effectively for your comparative essay. Regardless of your writing style, it is important to follow these tips to get the most out of your paper.
If your essay focuses on similarities, you can use a point-to-point or block format. The block format focuses on one trait or topic per paragraph, while point-to-point format addresses both topics. For example, if you're comparing leadership styles between George Washington and Thomas Jefferson, you could use the block format to develop two or three points about Jefferson's style and then mirror those points with your next paragraph.